Powerhouse 4GL Technology
---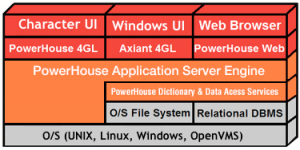 PowerHouse 4GL consists of multiple products and components, with support for multiple databases on different operating platforms.
Our PowerHouse support technicians and consultants have vast project experience across numerous environments.
---
–
PowerHouse 4GL
The original 4GL allows developers to build fully fledged business applications, consisting of:
QUICK/QDESIGN – Screen builder
QUIZ – Report writer
QTP – Transaction processing
QDD – Data dictionary
Axiant 4GL
Axiant 4GL provides a robust visual IDE for PowerHouse 4GL solutions that fully utilize the combined power of a Microsoft Windows UI and UNIX, Linux, Windows, and OpenVMS servers.
Axiant 4GL wraps a sophisticated object-based visual development environment around the PowerHouse engine, allowing developers to still benefit from the flexibility and speed of this high-powered environment. In addition, Axiant 4GL supports object-oriented techniques, such as inheritance and reuse, without the necessity to learn object-oriented programming languages. PowerHouse 4GL data elements, tables and programs are represented graphically, enabling developers to create applications quickly and pinpoint errors easily.
–
PowerHouse Web
Powerhouse Web allows the development of HTML applications that interface with PowerHouse 4GL or Axiant 4GL, benefitting from the renowned productivity of these tools. You can then deploy the application to the Internet or intranet with PowerHouse Web.
PowerHouse Operating Platforms
PowerHouse 4GL works within many operating platforms:
VAX/VMS
HP3000
IBM AS/400
HP3000
Data General AOS/VS
–
PowerHouse Databases
PowerHouse 4GL supports the most common database providers:
HP's Allbase/SQL
DEC RDB
Microsoft SQL Server
Oracle
SAP Sybase
IBM DB2